Ships Monthly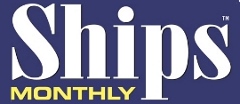 The world's leading international shipping magazine, Ships Monthly is the ultimate resource for both seafarers and enthusiasts who enjoy reading the latest news from the ferry, cargo, cruise and naval scenes.
The magazine is filled with informative articles written by experts on a huge range of shipping subjects from historic ships and shipping companies to interviews with industry professionals and the latest shipping developments. Not only is the photography wonderfully inspiring, but the comprehensive editorial devoted to both modern and archival ships and shipping artistry makes it a valuable resource to be referred to time and time again.
The world's top selling UK published specialist shipping magazine for enthusiasts and maritime professionals. As well as being available in print and digital format, Ships Monthly has a growing online following.