Top Santé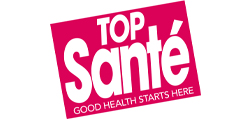 Top Santé is your ultimate guide to being healthy, feeling great and staying in shape. Each issue is packed with feel-good food and nutrition, exercises to burn fat and tone up, well-being tips to stay happy and beat stress, plus youth-boosting beauty products for smoother skin, fabulous hair and a firmer body.
We offer expert advice on keeping your brain sharp, reducing blood sugar, maintaining strong bones, getting good sleep, plus the low down on what vitamins and minerals you need and when.
Aimed at women in their 30s-60s, Top Santé delivers unmissable content that helps you, one step at a time, towards optimum health.
Top Santé is available in print and digital format.