Practical Pigs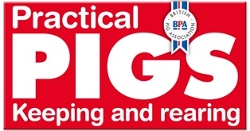 Practical Pigs is the definitive guide to keeping and rearing pigs.
The magazine is the first port of call for domestic pig keepers, both those thinking about keeping them and anyone who already owns pigs. Written by experts, it is an informative read providing all the essential information pig keepers need, alongside light-hearted articles including delicious recipes.
The magazine features a handy breeders' directory and quick-reference breed guide. Published four times a year in collaboration with the British Pig Association, Practical Pigs is ideal for those people keeping, or looking to keep, pigs.
A must-read for domestic pig keepers, available in print and digital format.