Mini Mag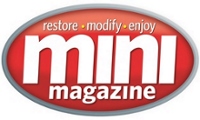 Mini Mag is the best magazine dedicated to the classic Mini.
Each issue is rammed with inspirational feature cars; the magazine features the broadest range from surviving originals and restored rarities, through to the maddest custom and performance Minis.
The magazine is packed full of all things Mini from Mini news to clubs and events – it's all covered in Mini Mag. All things technical are covered by the vastly knowledgeable, experienced and respected racer and engine builder Keith Calver.
Mini Mag offers enthusiasts opportunities to access and enjoy content through its various different platforms – allowing the audience to interact with the brand and one another, facilitating conversations about Minis wherever the audience choose. There is an ever-growing Facebook and Twitter following to accompany the magazine, which is available in print and digital formats.