Classic Car Mart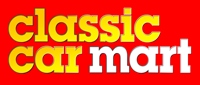 Classic Car Mart is the UK's best selling monthly classic cars for sale magazine.
Published every four weeks, this much-loved classic car magazine has gone from strength to strength since its launch back in 1993. With 1000s of classics for sale, Classic Car Mart is now widely regarded as the best in the marketplace for anyone looking to buy or sell a classic car.
With detailed reports, road tests, buying guides and auction reports, buyers need look no further when deciding where to invest their money. As the 'bible' for classic car ownership there are also maintenance and running guides, news reports, club guides and in-depth explorations of cars, iconic and some forgotten, from across the decades. Everything enthusiasts need to know about buying, selling, owning and enjoying a classic car.
Classic Car Mart is available in both print and digital format.