Retro Cars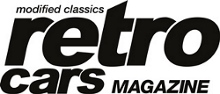 There's no doubting the UK's modified and classic car scene is as healthy as ever, and Retro Cars magazine is here to celebrate this vibrant and varied market.
Retro Cars is a monthly magazine that focuses on both standard and modified classic cars from the 1970s, 1980s and 1990s. It reveals the chronicles of retro cars which might otherwise have remained undiscovered. Packed with the finest show, daily-driven and contours classics around, it is a must buy for those with an interest in cars of this era.
Whether its modifying a Mini, tweaking a Triumph, slamming a SAAB or jazzing up a Jaguar; Retro Cars  magazine offers professional advice to help. Retro cars also report from some of Britain's best car events, and peers behind the garage doors of the country's best lock-ups, all of them concealing an Aladdin's cave of classic cars, memorabilia and retro gems. Ultimately, Retro Cars is about what's cool on four wheels and profiles the best, rarest and most varied selection of cars and people in any monthly modified classic car title.
The magazine is available in print and digital, has a considerable online presence and highly active social community. Retro Cars is also part of the Fast Car Entertainment series, which features a number key events in the motor enthusiasts calendar.