Performance Vauxhall Show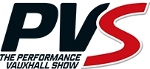 The Performance Vauxhall Show is Britain's biggest show celebrating everything that surrounds the Vauxhall marque.
Featuring tyre-smoking action on the Santa Pod drag strip, over 1,600 of Europe's finest Vauxhalls on display and a full day of live action. The show is attended by more than 10,000 performance Vauxhall enthusiasts.
The Performance Vauxhall Show is part of the Fast Car Entertainment event series which also includes; TRAX, The Fast Car Festival and Japfest.